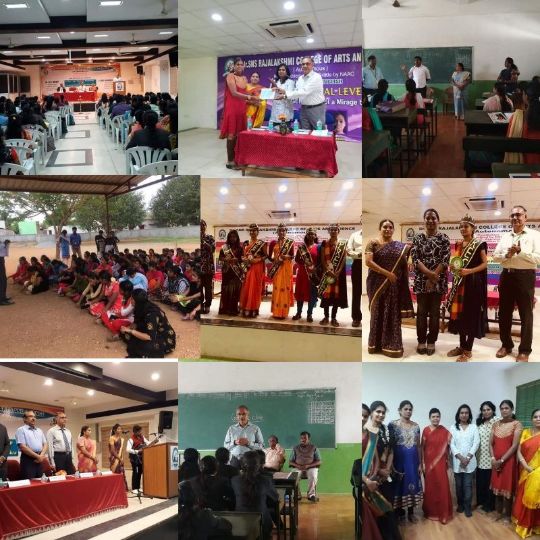 DEPARTMENT OF

 CHEMISTRY

The Department of Chemistry was established in the year 2018. 




OBJECTIVE 
To foster global competencies among the students and impart value based education.

Under Graduate Programme
B.Sc Chemistry
3 Years Course
Course Description
BA in English deals with the study of linguistics and specific areas of literature. The programme offers an in-depth knowledge of English grammar and usage, British Literature, critical thinking, diversity, written and communication skills, and more.
FACILITIES
DEPARTMENT INFRASTRUCTURE
The Department has well furnished staff room with Laptop, Desktop, & an Intercom 
Department Library with 261 books 
Journals: International :08, National : 04, Magazines :04 
Spacious & ventilated classrooms: 05 
Fully equipped Language Lab with sixty three Desktops & Headphones. 
Wi-Fi facility on the entire campus for the students and the faculty.

supporting pm initiatives mapped with aicte

highlights
Department activities
15.02.2019: "Nobel Laureates in Literature and Nobel Facts", by Sa.K.Narayan Das(Retd), Department of Physics, Bharathiar University.
26.12.2018: "Newspaper Hierarchy", by L.Rajagopal, Principal, Correspondent, THE NEW INDIAN EXPRESS", Coimbatore.
11.01.2018: "How Journalism Differs From Theory and Practice" By Ms. S. Nevedha, Reporter The New Indian Express, Coimbatore.
23.12.2016: "Emerging Trends in English Language" by Dr. K. Rathnasabapathi, Associate professor of English, PSG College of Arts and Science, Coimbatore.
21.12.2016: "Challenge in Indian Journalism" by Sruthi R Mallya, Reporter of the New Indian Express, Coimbatore.
22.8.2016: "Purple Passages from Shakespeare: A Study and Demo" by Dr. N. Ramani, Vellore Institute of Technology, Vellore.
28.02.12: "Language Erudition – Habit Formation" by Dr.G.V.Suresh
23.06.11: "Language for communication" by Dr.K.Rathinasababathy, Professor, Department of English, PSG College of Arts and Science, Coimbatore.
26.02.2019: "Transgender: Not a Mirage but a Mirror", by Kalki Subramaniam, Social Activist, Actor.
07.09.2018: "Literary Criticism: An Overview", by Dr. D.E. Bennet, Associate Professor, National College.
10.08.2017: "Phonetics" by Mr. B. Mahesh Babu, English Language Instructor & Assistant, Science College, Gizan, Saudi Arabia
10.03.2018: Conference on "Musings on Indian Diaspora" by Dr. Joseph Rathna Jayakar, Associate Professor, Department of English, Gitam University, Hyderabad.
08.03.2017:"Women on Women in World Literature" by Dr. Melissa Helen, Assistant Professor in Osmania University Hyderabad & Dr. W.S.Kottiswari, Associate Professor & Head, Department of English, Mercy College, Pallakad.
10.01.2017: "Inauguration of Drama Club" by Jayashree V Moorthy, Managing Trustee, STHAAYI, Theatre in Education, Theatre for Education, Coimbatore.
20.01.2016: "Indian English and Indianisms" & Cultural Attitudes and Behaviour in Cross Cultural Interaction" by Dr. Vridhagiri Ganeshan, Former Vice Chancellor, Central Institute of English & Foreign Languages, Hyderabad.
27.08.2015: "Significance of Bec Course" by Mr.M. Mangala Prathaban, Managing Partner & Head, ESOL Consultancy and Corporate Training Centre, Coimbatore
20,21.08.2015: "Change Your World By Changing Your Language" by Mrs. Indhumathi Sathish Kumar, Managing Partner & Mr. D.Sathish Kumar, Managing Director, OGMA-The Language Institute, Gandhipuram, Coimbatore.
12.012.2014: "Mind Management" by Dr. Radhakrishnan, Director, Skills Training Centre, Coimbatore.
25.07.2014: "BEC Course" by Mr.M. Mangala Prathaban, Managing Partner & Head, ESOL Consultancy and Corporate Training Centre, Coimbatore.
05.03.2014:"A Discourse on the Bhagavad Gita- Its Relevance" by Shri Madhu Gopal Das, Vice – President, ISKCON, Coimbatore.
11.02.2014: "Computer Assisted Language Learning" by Mr. G. Subramanian, Assistant Professor, Government Arts College, Coimbatore,
13.12.2013:" Feminism – A Fresh Perspective" by Dr.R. Poongothai, Professor in Kongunadu CAS, Coimbatore.
22.07.2013:" Translation Theories" by Professor D.C. Ramasamy, Translator, Editor.
12.12.2012:"Shakespeare and Classic Plays" by Professor, Rathinasamy, Retired HM.
12.10.2012:"Gandhi in Indian English Literature" by Dr. Markandan, Retired, VC in Gandhigram University.
06.09.2012:"Communicative Skills & Personality Development" by Sayed Haris Thangal, Motivational Speaker, Kerala.
18.07.2012:"Literature the Mirror of Life" by Dr. Ravishankar, Head, Sree Saraswati Thiyagaraja College, Pollachi.
09.03.2012:"Soliloquies in Shakespearean Plays" by Dr. V.Krishanan, Professor, Department of English, VLB Janakiammal College of Arts and Science, Coimbatore.
09.02.2012:"Poetry-Reading and Comprehending" by Dr. Kalairani, Professor, Department of English, Kongunadu College of Arts and Science, Coimbatore.
29.09.2011:"Indian Writing in English" by Dr.C.Muralidara Kannan, Senior Professor, Government College, Coimbatore
22.07.2011:"Skills for Work-Presentation Skills" by Dr. Thiyagarajan, Presenter, University of Cambridge, ESOL Examinations.
03.03.2019: Conducted Awareness Programme on Plastic Usage, at Sellapanur, Maruthur Panchayat, Karamadai Block, Coimbatore.
14.10.2017: Visit to Organic Farm at Pannimadai to learn the techniques and apply in farming.
03.04.2017: Conducted Awareness programme on Traditional Farming
09.01.2017- 18.1.2017: Digitalized English Language Teaching for secondary students for students of Dr.Dasarathan International School, Thoppampatti Pirivu, Coimbatore.
02.03.2016: Offered communicative and soft skills training at Bhavanisagar Government Hr.Secondary School.
10.10.2013: Conducted Awareness Camp on Significance of Education In Pamboor- Paramakudi district.
14.08.2013: Conducted English Literary Competitions for Rural School Children.
12.12.2012: Distributed sweets and stationery among the children of MARIYALAYA near Athipalayam Pirivu
05.09.2012: Conducted English Literary Competitions for Rural School Children.
06.10.2011: Conducted English Literary Competitions for Rural School Children
English for Empowerment
Memories