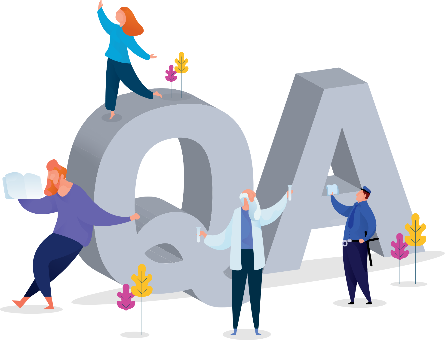 DEPARTMENT OF BUSINESS ADMINISTRATION (UG)
industry i
nstitute
partnership Cell
IIPC identifies the industrial expectation and promotes institutional preparation for meeting industrial needs by facilitating sponsored R&D projects, seminars, workshops and various other industrial training programmes. Industry Institute partnerships reflects in equipping faculty to latest practices and makes the students industry-ready by providing exposure to current industry practices, and hone their skills to adapt changing technologies. The primary focus of IIPC is to interact with elite industries in and around Coimbatore, and extend the efforts in establishing partnership with industries across the country in near future.
industry institute partnerships

mou
Anandha Fabrications Pvt Ltd,Saravanampatti,Coimbatore
Geethanjali Garments, Tiruppur.
Global Cargo Services Pvt Ltd, Thoothukudi.
Sri Kalyan Export Pvt Ltd,Erode.
Maipro Ailica Pvt Ltd, Erode.
Sakthi Coirs Exports Pvt Ltd,Pollachi.
VSR Private Ltd, Erode.
Venba Paper Products,Pollachi.
Nehru College Of Management,Coimbatore
Pioneer College Of Arts & Science,Coimbatore
City Converters,Coimbatore
M/S United Trade Fairs India Private.Ltd,Coimbatore
Pricol Academy Of Excellence Karunya Post Coimbatore
Harshit Automobiles Pvt Ltd, Nggo Colony, Coimbatore
Walkman Hosieries, Tirupur.
Kaamadhenu Arts & Science College, Erode
Balaji Plastic Products, Coimbatore
Grace International,Tirupur.
Annamalai Capital Services (P) Ltd, Coimbatore
Majestic Machine Works,Coimbatore
Apex Institute Of Multimedia Coimbatore.
Green Land Coir'S Mettupalayam Coimbatore.
National Human Rights. & Consumer Protection Council, Coimbatore.
Aram Foundation Charitable Trust, Coimbatore
Krishna Rubber Product, Ganapathy.
Cenkumar Tex, Chennimalai
Mouli Technologies Llp, Coimbatore
Pioneer Cirrcuits, Coimbatore
IGP Engineers Pvt Ltd,Erode.
KSA Alloys,Karamadai, Coimbatore.
Lakshmi Castors,Coimbatore.
Premier Engravar, Sanganoor, Coimbatore.
Premier Metal Graphics, Sanganoor, Coimbatore.
SPB Metal Casters, Coimbatore.
Srinivasa Groups Pvt Ltd,Karamadai, Coimbatore.
Yesge Technologies, Coimbatore
Barani Textiles,Puliampatti.
Electronet-Ax Services Private Ltd,Coimbatore.
Furnitech World, Coimbatore.
G.P Textiles,Coimbatore.
Gem Paacks,Vellakenar Pririvu,Coimbatore
Subashree Automation, Coimbatore.
Supa Praveen Spinning Mills Pvt Ltd, Coimbatore
Unique Shell Mould India Pvt Ltd,Coimbatore
Valampuri Industries, Pn Pudur, Coimbatore.
Sri Ganapathy Cones,Karamadai.
Kasthuri Packagings, Coimbatore
Standard Cartons, Coimbatore
Bannari Amman Tex
Rayer Packaging Industries
Sri Bannari Textiles Pvt Ltd
Walkman Hosieries, Tirupur.
G.G. Motor & Pumps
Coimbatore Institute of Fashion Technology
Sri Sabari Industries
Salzer Electronics Ltd
Apple Knit Fashion
Sri Janarthana Spinning Mills
R.K.S Metal Screens
Cheran Beauty Care Products Pvt Ltd
VJK Automation
Amex Alloy Pvt Ltd
GRP Products Pvt Ltd
Bright Foundaries Pvt Ltd
KG Denim Limited
Kumaran Fibres
S. No
Company Name
Packages in LPA
Number of Students Placed
Company Type
Core/General/IT/Management
1
Pin Click
2.6 lakhs
12
Core
2
Pin Click
5.4 lakhs
6
Core
3
Flip Kart
1.92 lakhs
3
IT
4
HCL - Chennai
2.6 lakhs
1
IT
5
D Mart
3 lakhs
1
Core
6
Talentio
4.5 lakhs
1
General
7
Syena Logistics
1.8 lakhs
2
Core
8
OM freignt Forwarders (P) Ltd
2.6 lakhs
2
Core
9
Varuna Logistics
3.5 lakhs
1
Core
10
Fast cargo
2.2 lakhs
1
Core
11
Wel Grow Logistics
2.5 lakhs
2
Core
12
Arem Logistics
1.8 lakhs
4
Core
13
Bolore Logistics
1.8 lakhs
2
Core
14
Popular system
1.92 lakhs
3
IT
15
Perfect Circle
1.56 lakhs
1
IT
SCOPE OF INTERNSHIP AND IN-PLANT TRAINING (IPT)
Help students grow personally in the context of their career and personal goals. 

Help students develop strong ties with a professional they can trust, ask for advice, and foster their own networking channels. 

Get an inside view of an industry and organization/company 

Gain valuable skills and knowledge 

Make professional connections and enhance your network 

Get experience in a field to allow you to make a career transition
In-Plant Training (IPT) will provide an industrial exposure to the students as well as to develop their career in the high tech industrial requirements. Reputed companies are providing in-plant training to Students. Here students are initially get counseled in order to emerge out their interest in various streams and what are all the basic concepts they know on that domain. After the successful completion of studies students has to face this competitive world with this knowledge to face many problems and to find the right solutions which is to be solved in the minimum duration of time. The in-plant training is get totally different from the class environments.

SRI SELVANAYAKI AMMAN SIPNNERS ANNUR
SABARI ENGINEERING
ACETECH MACHINERY COMPONENTS INDIA PRIVATE LIMITED COIMBATORE
SALZAR ELECTRONICS LIMITED
SRI RAJESWARI SPINNING MILLS
ACETECH MACHINERY COMPONENTS INDIA PRIVATE LIMITED COIMBATORE
SRI THANDEESWARAR ENGINEERING PVT LIMITED
JP ADS SIGNBOARDS
SRI KANNAPIRAN MILLS LIMITED
SRI SELVANAYAKI AMMAN SPINNERS ANNUR
SHREEDEVI TILES
RK AND COMPANY
SURYA TEX
AP METALS AND POLMERS
SRI AVANYA INDUSTRIES-COCOAS PRODUCT
MANOJ INDUSTRIES
KISSAN INDUSTRIES
VINAYAGA ENGINEERING LIMITED
POMMYS GARMENTS INDIA LIMLITED
Amex Alloys Pvt Ltd
VJK Automation Pvt Ltd
Cheran Beauty Care Products Pvt Ltd
Rks Metal Scars Pvt Ltd
Bright Foundaries Pvt Ltd
VALAMPURI INDUSTRIES
Pioneer Circuits
Salzer Electronics Limited
Rayer Packaging Industries
Sathuragirisoftex India Pvt LTD
Pioneer Circuits
GP Textiles
Salzer Electronics Limited
Kumaran fibres & coco peads coir products
Sri Kumaran Printing Co, Venkamedu
KM Industries
AKR Foods Private Ltd
Apple knit fashion
augustan knitwear pvt ltd
sri sakthi paper india pvt ltd
jayam oil industries
sree vel industries
apex engineering
SriSaraswathi Electronics Security Solution
sree vel industries
Sri Janarthanas Spinning Mills
Cheran Beauty Care Products Pvt Ltd
KG Denim Pvt Ltd
GRP Products Pvt Ltd
Rks Metal Scars Pvt Ltd
VJK Automation Pvt Ltd
Sri ganesh engineering works,coimbatore4/110 g1,k.m nagar kalappannaicken palayam to vadavalli road somayampalayam post,coimbatore-641108
Radiant machine and tools,coimbatore sf no.273/3,vattamalaipalayam pirivu,nggo colony, coimbatore-641022
Sri ganapathy cones 733/1,matheswaran,kovil street,karamadai-641104
Prime process lmtd.tripur
Gem rose textiles india (p) ltd.,sf no .22/2a sirumugai road,annur,coimbatote-641653
Prompt automation 2/425-5 sulur rly,feeder road kurumbampalayam muthugoundanpudhur(po) sulur,coimbatore-641402
Spb metal casters, chinnavedampatti 66,sanganoor road ,ganapathy (po),coimbatore-641006
Global cargo services (p) ltd 4/90 c-2 cge colony 3rd street tutticorin
Unique shell mould (india) pvt ltd,89,9,sidco industrial estate,coimbatore-641021
Jpr engineering -cbe,1/1a rajiv gandhi salai,rathinapuri,sanganoor,go gas bunk near,coimbatore-641027
Sd aauto corporation f-7,1st floor. K.s.tower,thoddarayan kovil street,kattoor,coimbatore-641009
Vodafone shine associates,old no -175,new no.-133,1st floor,dr.radhakrishnan road,tatabad,coimbatore-641012
Trigger coimbatore no;:2 fci complex mettupalayam karamadai coimbatore-641164
Premier engravar no 3a thairi ittary road sanganoore coimbatore-27
Jpr engineering -cbe,1/1a rajiv gandhi salai,rathinapuri,sanganoor,go gas bunk near,coimbatore-641027
Ammarun foundries, vilankurichi 80/6a rathinagiri road,vilangurichi(p),coimbatore-641035
Aavin, Nilgiris,The Nilgiries district coop.milk producers'unoin ltd.,Coonoore road ,Udhagamandalam-643001
Mahindra cars, r.s puram.963,mettupalayam road,opp.shanmuga theatre,r.s.puram,rajiv ganthi nagar,coimbatore-641002
Sri ak auto industries, tvs nagar kanuvai road coimbatore-641025
Ammarun foundries, vilankurichi 80/6a rathinagiri road,vilangurichi(p),coimbatore-641035
Luisant software solutions, mailkal
Krishna rubber products, 40 athipalayam road ganapathy coimbatore-641006
Mouli technologies llp, chinavedampatti,coimbatore-641049
| S. No | Company Name | Period | Number of Beneficiary |
| --- | --- | --- | --- |
| 1 | AP METALS AND POLMERS | 15 days | 8 |
| 2 | JP ADS SIGNBOARDS | 15 days | 1 |
| 3 | KISSAN ENGINEERING CORPORATION | 15 days | 5 |
| 4 | MANOJ INDUSTRIES | 15 days | 5 |
| 5 | RK AND COMPANY | 15 days | 8 |
| 6 | POMMYS GARMENTS INDIA LIMLITED | 15 days | 2 |
| 7 | SABARI ENGINEERING | 15 days | 4 |
| 8 | POMMYS GARMENTS INDIA LIMLITED | 15 days | 2 |
| 9 | SALZAR ELECTRONICS LIMITED | 15 days | 8 |
| 10 | SRI KANNAPIRAN MILLS LIMITED | 15 days | 3 |
| 11 | SRI RAJESWARI SPINNING MILLS | 15 days | 5 |
| 12 | SRI SAI SMK TRANSPORT | 15 days | 4 |
| 13 | SURYA TEX | 15 days | 5 |
| 14 | VINAYAGA ENGINEERING LIMITED | 15 days | 5 |
| 15 | SRI THANDEESWARAR ENGINEERING PVT LIMITED | 15 days | 4 |
| 16 | SRI SELVANAYAKI AMMAN SPINNERS ANNUR | 15 days | 5 |
| 17 | ACETECH MACHINERY COMPONENTS INDIA PRIVATE LIMITED COIMBATORE | 15 days | 8 |
| 18 | SHREEDEVI TILES | 15 days | 4 |
| S. No | Company Name | period | Number of Beneficiary |
| --- | --- | --- | --- |
| 1 | Aavin | 15 days | 3 |
| 2 | Ammarun foundaries | 15 days | 6 |
| 3 | Gem rose textiles | 15 days | 8 |
| 4 | Global cargo services | 15 days | 1 |
| 5 | JPR Engineering | 15 days | 3 |
| 6 | Krishna rubber products | 15 days | 4 |
| 7 | Luisant software solutions | 15 days | 5 |
| 8 | Mahindra cars | 15 days | 9 |
| 9 | Mouli technologies | 15 days | 1 |
| 10 | premier engravar | 15 days | 2 |
| 10 | prime process ltd. | 15 days | 2 |
| 10 | Trigger-cbe | 15 days | 8 |
Department of Business Administration organized two days industrial Visit at KITEX GARMENTS AND TRACO CABLES on 24.1.2010 & 25.1.2010
Department of Business Administration organized industrial Visit at BPL TELECOM PVT LTD,PALAKKAD on 20.7.2019
Department of Business Administration organized industrial Visit at HINDUSTAN COCO COLA BEVERAGES PVT LTD,BANGALORE on 2.8.2018
Department of Business Administration organized industrial Visit at UNIBIC BISCUITS PVT LTD, on 2.8.2018
Department of Business Administration organized industrial Visit at KARNATAKA SILK INDUSTRIES CORPORATION LIMITED, BANGALORE on 3.8.2018
Department of Business Administration organized industrial Visit at NANDHINI DIARY FARMS, BANGALORE on 3.8.2018
Department of Business Administration organized industrial Visit at COIMBATORE DISTRICT MILK PRODUCES ASSOCIATIONS(AAVIN),PACHAPALAYAM.CBE on 18.8.2018
Department of Business Administration organized industrial Visit at KARNATAKA SILK INDUSTRIES CORPORATION LIMITED, BANGALORE on 20.9.2018
Department of Business Administration organized industrial Visit at KAYNES TECHNOLOGIES,MYSORE on 20.9.2018
Department of Business Administration organized industrial Visit at NANDHINI DIARY FARMS, BANGALORE on 21.9.2018
Department of Business Administration organized industrial Visit at DAKSHINA KANNADA CO-OPERATIVE MILK PRODUCERS UNION LTD, MANGALORE on 23.9.2017
Department of Business Administration organized industrial Visit at KELTRON COMPANY, COCHIN on 1.2.2018
Department of Business Administration organized industrial Visit at ANNA ALUMINIUM COMPANY PVT LTD, KERALA on 1.2.2018
Department of Business Administration organized industrial Visit at HINDUSTAN COCO COLA BEVERAGES PVT LTD, BANGALORE on 19.1.2017
Department of Business Administration organized industrial Visit at AAVIN MILK COMPANY,OOTY on 1.2.2017
Department of Business Administration organized industrial Visit at KERALA ELECTRICALS&ALLIED ENGINEERING COMPANY PVT LTD , COCHIN on 21.8.2015
Department of Business Administration organized industrial Visit at ANNA ALUMINIUM COMPANY PVT LTD, KERALA on 7.3.2016