Counselling Code: 326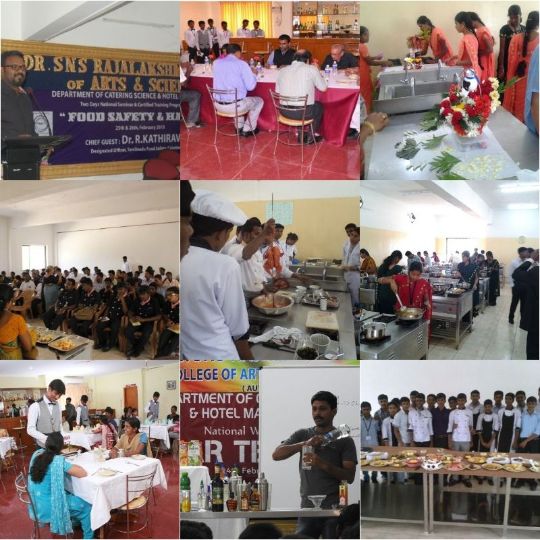 DEPARTMENT OF

Catering SCIENCE and hotel management

The department of Catering Science and Hotel Management was started in the year 2006. It has been started because of the acute requirement of Skilled Staff in Hotel / Hospitality Industry which is a part of ever growing Travel and Tourism Industry. The opportunities should be made available to all the deserving and hard working Young Men & Women from nooks and corners including the rural areas of our country. The department has all the required latest facilities and has got the set-up of a Model Star Category Hotel to create the real working atmosphere and to provide the exact standards and working etiquettes required to work in a star category Hotel. It stands one of the best set departments in the city. It continues to extend its services to the sub-urban and rural community students and economically backward people to uplift their status and provide them the job oriented technical knowledge of the field of catering by a very reasonable fees structure, student's scholarships, Fees Concessions etc. During the period of 3 years education the students are given opportunities to work part-time in the field of Catering to gain real-time practical knowledge and also to provide them a partial earnings. After successful completion of the Degree, the department assures to provide 100 % placements to the students in leading star category hotels, Industrial Catering units, Transport catering Services and even guided for Entrepreneurship.

OBJECTIVE 

To enrich the students with practical knowledge and Latest updates in the industry. 
To provide quality placements for all the deserving students. 
To encourage the faculty to enhance their educational qualifications and teaching skills and update their knowledge in the Latest trends in the industry and their subjects. 
To achieve high percentage of passes. 
To maintain quality enhancement in terms of learning, teaching, extension and research.

Under Graduate Programme
B.Sc (Catering Science & Hotel Management)
3 Years Course
Course Description
B.Sc. Catering Science and Hotel Management is a 3-year full-time undergraduate course divided into 6 semesters. The basic objective of this program is to provide competent candidates with the necessary skills, knowledge, values, and attitudes to occupy key operational positions in the hospitality industry.
FACILITIES
DEPARTMENT INFRASTRUCTURE
FRONT OFFICE:

To learn the art of receiving the guest, reservation, information, telephone handling, currency exchange and cash, handling travel desk and the lab can accommodate 40 students at a time. 

 SUITE ROOM:

To learn the basic room cleaning procedures and getting the room ready for occupancy. Method of spring cleaning, room cleaning, room furnishing and interior designing and the lab can accommodate 40 students at a time. 

 TRAINING RESTAURANT:

To learn the basic and specialty food and beverage services. Taught to prepare and serve cocktails, mock tails, specialty coffees and live food preparations in gueridon trolleys and the lab can accommodate 40 students at a time. 

QUANTITY TRAINING KITCHEN & BAKERY

: It is fully equipped with specialized cooking ranges and equipments. To prepare food and all bakery products in bulk quantity from 25 pax to 1000 pax and the lab can accommodate 40 students at a time. 

 BASIC TRAINING KITCHEN:

It provides individual working tables and individual vessels for basic food preparations and a la carte foods. And the lab can accommodate 40 students at a time.

supporting pm initiatives mapped with aicte

highlights
Department activities
08.02.2018: Micro audit system by Mr. Mohamed inayadullah, Quality Assurance Manager, Treebo Hotels, Bangalore
08.07.2016: Job Opportunities in Flight Kitchen by Mr.Prabhakaran, Commi III, Taj Madras Flight kitchen ,Chennai
18.08.2014: "Introduction to Table Artistry" by Mr.Suresh, Table Artist, Jolarpet, Vellore District Dr. SNSR CAS TRAINING RESTAURANT
24.02.2016: Workshop on "BAR TENDING" by K. Hariharan, Manager - HR, Hotel Aloft, Coimbatore
14.08.2015: Workshop on "HALOGEN OVEN COOKING" by Mr.S.Prabhu, Sr. Executive - Demonstration, Usha International Ltd, Coimbatore-641018
25,26.02.2015: National Seminar & Certified Training Programme - Jointly organized by NIST Institute of Food Safety, Chennai) on "FOOD SAFETY & HACCP" by Dr.R.Kathiravan, Designated Officer, Tamil Nadu Food Safety & Drug Admin Dept, Coimbatore, Mr. Sathish Govindhan, Director, NIST Institute of Food Safety, Chennai
10,11.02.2014: National Workshop on "PRESERVED FOODS" by Dr. Saraswathy Eswaran, Retd.Professor TNAU. Coimbatore
06, 07.02.2013: National Workshop on "TANDOORI COOKING" by Mr.Magesh Kumar (SOUF CHEF), VIVANTA BY TAJ Coimbatore
27.02.2012: National Workshop on "Flower Arrangement Techniques" by Ms.Sree Vidhya, The Blue Bells Flower Shop,Coimbatore, Mr. P. Suresh, Executive House Keeper, The Residency , Coimbatore
10,11.02.2011: Two Days National Level Workshop on "THE HALWAII KITCHEN" to Learn, Practice and Taste the art of Indian Sweets by Mr. Veluswamy Thirumalai, Executive Chef, Hotel Le Meridien, Coimbatore
08.01.2014 - Cookery & Flower Arrangement Competitions
24.01.2013 - Cookery & Flower Arrangement Competitions
02.02.2012 - Cookery & Flower Arrangement Competitions
28.01.2011 – Cookery & Vegetable Carving Competitions
10,11.02.2014: STALL PROVISION FOR SELF HELP GROUP WOMEN –Stall Provision for SHG to display and sell their preserved food products as part of RCT /Out Reach Activities
05.04.2014Plantation of Saplings outside the college compound -Our department students along with our Staff Mr. R. Prasanth doing plantations outside the college compound
02.03.2013: Bharatha Annai Illam - Vadavalli, Coimbatore – Carried out a Full Day thorough cleaning of the Entire Building and outside areas of the Home. Given assistance through Medicines, Toiletry & Cleaning Agents as per their requirement. Materials for cooking was taken, our students & staff Cooked & served Lunch in their campus and had food along with them. (for 85 aged people).