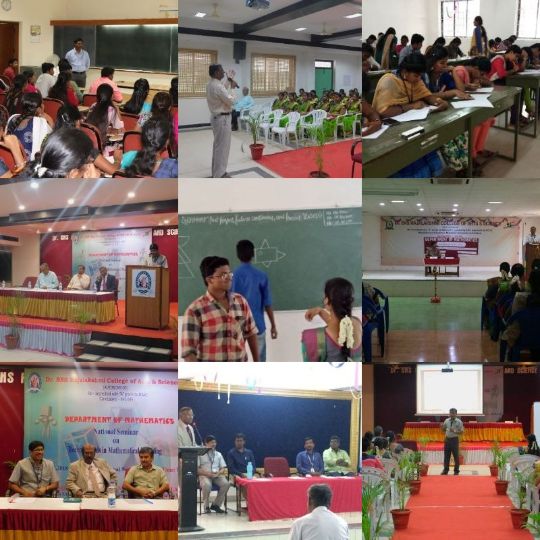 DEPARTMENT OF

 MATHEMATICS

The Department of Mathematics has been functioning since 2002 with the sole aim of equipping the students both in Mathematics and Computer Application fields. It is functioning effectively with qualified, experienced and dedicated staff members. Post graduate in Mathematics course has been established (2012 - 2013). M.Phil (P/T) Programmme (since 2010) and Ph.D (P/T) programme (since 2011) are also offered in various fields Operator theory, Optimization Techniques, Graph theory and Differential Equations.




OBJECTIVE 
To encourage the student community to master various fields of mathematics to face the real life situations. 
To help the students in expanding their mathematical skills and ability to understand and work practically in different computer applications. 
To imbibe moral values through holistic approach and a spirit of national integration.

Post Graduate Programme
M.Sc Mathematics
2 Years Course
Course Description
The students become more skilled and specialized in a particular subject after the master degree program. In this course, students learn to Theoritical, Applied and Applicable Mathematics.
FACILITIES
DEPARTMENT INFRASTRUCTURE
The Department has well furnished Staff room with Laptop, Desktop, Intercom 
Department Library with 109 Books and 12 E-Books 
6 Class rooms with Spacious and ventilated facilities
Class rooms with ICT Facility : 01 
1 Printers , 1 LCD 
Wi-Fi Campus

supporting pm initiatives mapped with aicte

highlights
Department activities
11.02.2017: "Chromatic numbers and its applications" by Dr.M.Venkatachalam,Asssistant Professor,Kongu Nadu Arts and Science College,Coimbatore
22.12.2014: "Ramanujan Numbers" by Dr.K.Abdul Hakeem, Asssistant Professor, SRMV,Coimbatore
06.02.2013: "Fuzzy logic and its Applications" by Dr.K.Indirani, Associate Professor, Nirmala College for women, Coimbatore.
08.03.2012: "Techniques for Personality and Skill Development" by Dr.K.Indirani, Associate Professor, Nirmala College for women, Coimbatore
09.09.2019 : "Cyber Security and Hacking" by Mr.A.Gobinath, Head, Trainer of Development, Xplore IT Corp and Mr.K.Aravinth, Head, Training and Delivery, Xplore IT Corp, Coimbatore
15.09.2018 : "Big Data Technologies(HADOOP)" by Mr.K.Elangovan, Senior Software Engineer, Angler Technologies, Coimbatore
06.09.2019 : "ISTQB - Software Testing" by A.Kathirvel, Associate Project Manager, Robert Bosch and Mr.M.Mahendran, Senior Software Engineer, Robert Bosch, Coimbatore
05.07.2018 : "Cloud Computing and AWS" by Mr.K.Santhosh Prabu, CISCO NETACAD Trainer, KGISL Technologies, Coimbatore
25.01.2018 : "Programming in Java" by Mr.Kathirvel Arunachalam, Mr. Nagendhranmani, Senior Software Engineer, Cognizant Technology Solutions, Coimbatore.
31.07.2019: Inter Disciplinary Mathematics Exhibition
18.06.2019: Experiential Learning Programme on Journey to the World of Science at Regional Science Centre, Coimbatore.
10.02.2019: 131th Birth Anniversary of Srinivasa Ramanujan Intercollegiate meet by Dr.S.Panayappan, CSIR- Emeritus Scientist, Associate Professor and Head, Retd. Principal, Chikkanna Govt. Arts College, Tirupur
02.02.2019: Workshop on Latest Technology Development in Mobile Android, Mr.Mohammed, Training Head, Global Vision Training Academe, Coimbatore.
28.12.2018: One day Workshop on "LaTeX" by Dr.M.Venkatachalam, Associate Professor, Kongu Nadu Arts and Science College.
02.02.2018: Workshop on "LaTeX" by Dr.R.Jothimurugan, Asst.Professor, Dept. of Physics, PSNA College of Engineering & Tech., Dindigul, Dr.D.Aravinthan, Research Associate, Centre for Nonlinear Dynamics, School of Physics, Bharathidasan University, Tiruchy, Mr.P.A.Praveen, Senior Research Fellow, School of Physics, Bharathidasan University, Tiruchy
09.01.2018: Intercollegite Meet by Dr.K.Muthukumarasamy, Associate Professor, Kongu Nadu Arts and Science College
15.03.2017: International Seminar on "Recent Development in Applied Mathematics and theoretical physics"
12.01.2016: 128th Birth Anniversary of SrinivasaRamanujan Intercollegiate meet by Dr. M. Gururajan, Former Prof. of Statistics, Madras Christian College, Chennai
10.09.2015: National Seminar on "Recent Trends in Fuzzy Logic and Optimization Techniques" by Dr.A.Krishnamoorthy, Emeritus Scientist, Cochin University of Science & Technology, Cochin, Dr. A. NagoorGani, Associate Professor, Jamal Mohamed College, Trichy.
01.03.2014: National Conference on "Recent Advances in Grpah Theory and Operator Theory" by Dr.G.Suresh Singh, Professor & Head, University of Kerala, Thiruvanandhapuram, Dr.K.Balachandran,Professor & Head, Bharathiar University, Coimbatore, Dr.S.Panayappan,CSIR EMERITUS SCIENTIST, Government Arts College, Coimbatore.
26.08.2013: Workshop on "Tally ERP9" by R.SaravanaSelvam,Tally Trainer, Coimbatore.
31.12.2012: Intercollegiate Meet 125th Srinivasa Ramanujan Birth Anniversary by Mr.M.Samuthra Pandian, HOD, Department Of Mathematics, SNS College of Engineering, Coimbatore
15.09.2012: State Level Workshop on "MATLAB" by Haresh .M Pandiya, Associate Professor,Department of Physics,Chikkana Govt. Arts College, Tiruppur
16.09.2011: State Level Workshop on "Applications of Mathematics in Software" by Dr.R.Radha Krishnan, Associate Professor, PSG College of Arts and Science, Coimbatore, Mrs.G.Amali Paul Rose. Assistant Professor,KGISL, Coimbatore.
15/02/2018: Carrier Guidance Programme at Pandit Nehru Matric.Hr.Sec.School, Kurichi, Coimbatore.
09/02/2018: Domain based extension activity at Govt. Hr. Sec. School, Kavelipalayam.
05/02/2018: Domain based extension activity at K.K.Vidyalaya Matric. Hr.Sec. School, Kaduvettipalayam.
02/02/2018: Domain based extension activity at Corporation Higher Secondary School, R.S.Puram, Coimbatore.
11/01/2018: Cleaning the Railway station at Railway station ,Thudiayalur.
07/01/2018: Donating Fund at Saranalayam,Coimbatore.
07/01/2018: Donating provisions at Donbosco Anbu Illam, Vellakinar, Coimbatore
10/08/2017: School Linkage programme at Corporation Higher Secondary School, R.S.Puram,Coimbatore.
03/04/2017: Awareness Program on Conservation of energy at Karamadai, Periyanaickanpalayam and Thudiyalur.
26/11/2015: Donated 5 pump stoves to the flood affected area at Kadalore
27/07/2015: Teaching mathematics using mathematical models and issuing formula books at VCV Higher Secondary School ,Vellakinar
26/03/2015: Blood Donation at Ramana Gounder Medical Trust,Coimbatore
26/03/2015: Blood Donation at Akshit foundation ,Coimbatore
29/01/2015: To conducted Maths oriented games and easy way of teaching Mathematics using Formulas & Models at Holy Angles Matriculation Higher Secondary SchooMettupalayam.
04/12/2014: To attend Young India, Arise! Youth convention camp (NSS) at Ramakrishna Mission Vidyalaya,Coimbatore.
11/11/2014: Blood Donation at Ganga Medicalcentre &Hospitals (P) Ltd., Coimbatore
18/08/2014: Teaching Mathematics using Mathematical Models at RosaryGirls High School, Suthanthirapuram, Mettupalayam.
05/03/2014: Entertained and helped the Orphanage people of Karunai Illam,Kavundampalayam.
08/02/2014 to 09/02/2014: Youth Self Employment Training cum Environmental awareness programme.
23/03/2013: Donated the Stationery and Bags for poor students of Jeeva Karunya Asharam, Naikkampalyam.
15/07/2013: Educational service for the poor children, Annanagar ,Vellakinar.
10/08/2013 to 11/08/2013: Two days animation for the orphan & semi-orphan children on Don Bosco Anbu Illam, Vellakinar.
Mathematical Applications of Test of Hypothesis & Sampling Technique
Mathematical Problems in Estimation Theory & Confidence Interval
Mathematical Foundations of Computer Science
Discrete Mathematics
Operations Research
Operator Theory for Beginners
Mathematical Statistics
OUTSTANDING STUDENTS OF THE DEPARTMENT
B.Sc Mathematics
| S.No | BATCH | NAME OF THE STUDENT |
| --- | --- | --- |
| 1 | 2009 - 2012 | M.Subramanian |
| 2 | 2010 - 2013 | A.Elakkiya Mary |
| 3 | 2011 - 2014 | V.Sreelekha |
| 4 | 2012 - 2015 | M. Arokya Raj |
| 6 | 2015 - 2018 | R.Priyadarshini |
| 7 | 2016 - 2019 | S. Rajkumar |
| 8 | 2017 - 2020 | S. Wilson Raj |
M.Sc Mathematics
| S.No | BATCH | NAME OF THE STUDENT |
| --- | --- | --- |
| 1 | 2012 - 2014 | M.Subramanian |
| 2 | 2013 - 2015 | J. Banazir |
| 3 | 2015 - 2017 | S. Yashodha |
| 5 | 2017 - 2019 | M. Bharath Lavanya |
| 6 | 2018 - 2020 | R.Priyadarshini |