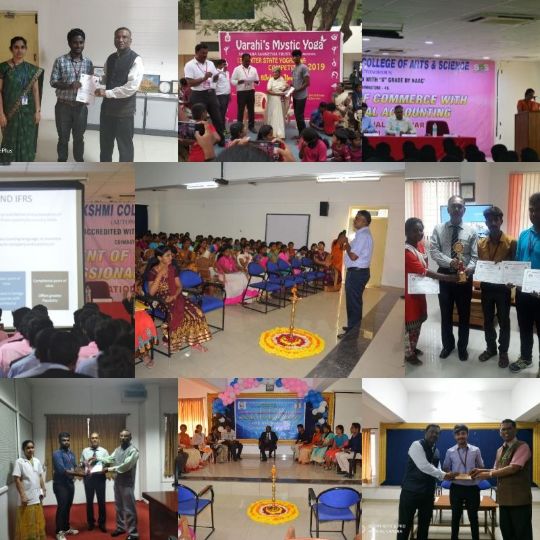 DEPARTMENT OF

COMmerce with professional accounting

The Department was established from the academic year 2014-2015 with an approved strength of 50 students.




OBJECTIVE 
To inculcate the professional skills among the students, to enhance their knowledge in accounting and sharpen their business acumen.

Under Graduate Programme
B.Com (Professional Accounting)
3 Years Course
Course Description
The Professional Accounting concentration gives the student a theoretical understanding of how Professional Accounting principles work within a business context.
FACILITIES
DEPARTMENT INFRASTRUCTURE
The Department has well furnished Staff room with Separate Cabin ,Laptop, Desktop, Intercom 
1 Printers , 1 LCD, 1 OHP 
Class rooms with ICT Facility : 01 
Wi-Fi Facility on the Entire Campus for the student and faculty members 

supporting pm initiatives mapped with aicte

highlights
Department activities
26.07.2019: Digital Marketing by Mr.Sathosh Kumar, Business Development Manager, Accent Techno Soft, Ram Nagar, Coimbatore.
12.07.2019: Tally and GST by Mr.P.Rajeshkumar, E-Smart Education and Technologies, Coimbatore.
02.07.2019: Awareness Programme on GST by Mr.G.Muthu Kumar, Proprietor, Srikara Institutions, Coimbatore.
03.04.2019: Skill Development and Job Opportunities by Mr.Sivanandan (Retired Principal), Mr.Rajeshkumar and Mr.Babu Co-ordinator E-Smart Education and Technologies, Coimbatore.
26.12.2018: Accounting Standards by Mrs.P.Sakunthala, Chartered Accountant, Sakunthala Associates, Coimbatore.
13.08.2018: Global Marketing and E-Marketing by Mr.V.Richard Paul, Assistant Professor, Department of Commerce, Bharathiar University, Coimbatore.
13.07.2018: Fundamental Concepts of Tally ERP 9 by Mr. Meyappan Gandhi.M, Regional Manager, Tally Education Pvt. Ltd, Coimbatore.
29.06.2018: Scope for CA and Preparation for Foundation Course Exam by CA.P.Raja, Chartered Accountant, Proprietor – PR Academy, PRN Associates and Practising Chartered Accountant, Coimbatore.
24.02.2018: Theory of Production and Cost by Mr.S.M.Rithik Prasath, Voice Chairman, SICASA, Coimbatore.
03.02.2018: Principles and Practices of Accounting by Mr.Manoj.G, Faculty of Auditor Association, Coimbatore
27.01.2018: Admission of Partners by Mr.CA.B.Giridharan, Charted Accountant, Coimbatore
06.01.2018: Civil Service and TNPSC Awareness Programme by Mr.M.Ruban, Coordinator, Tamil Nadu Graduate Federation, Coimbatore
03.01.2018: Motivating Students for Career Achievements by Mr. N.Kishore, HR-Recruiter, KGISL, Coimbatore
18.09.2017: Banking sector way for success by Ms.Lavanya M Nair, Associate Head, SMART Training Resources, India Pvt Ltd, Coimbatore
11.08.2017: Valuation for Good Will and GST by CA Shanmugham, M/s Shanmugham Vasudevan & Co, Coimbatore
10.08.2017: Scope for CA by CA Shandip Sabapathy, Vice President, Public Relations, Coimbatore
29.07.2017: Business Law by M/s Durga Devi, Company Secretary and Cost Accountant, GKS Associates, Pollachi
17.07.2017: Motivation on Job prospects by S.A.L Shameena Afrose, Trainee TCS Chennai
12.07.2017: Orientation on CPT by CA.Jayakumar, Orientation on Tenth Planet Technologies Pvt, CPT Ltd. Coimbatore
10.02.2017: Amalgamation of the company Ms.CA. M.Aghila Devi, Free Lancer- Trainer, Coimbatore
02.02.2017: Basics of Stock Market by Mr.Thangaraj, Proprietor, Ashirvad Capital, Coimbatore
31.01.2017: Corporate Law by Mr.CA.S.Karthikeyan, Academic Director, Edupertz CA Academy, Coimbatore
04.01.2017: Financial Institutions by Mr.Mahesh Kumar, General Manager, SAN-V Associates, Coimbatore
30.09.2016: Meet the CFO by Mr.K.Ravi, Chief Finance Officer, Roots Group of Companies and Director in Roots Multiclean Ltd, Coimbatore.
22.09.2016: Companies Act 2013 –Management by Personnel - by Ms.B.DivyaPriya, Assistant Professor, Department of M.Com, Kongunadu Arts and Science College, Coimbatore
24.08.2016: Fundamentals of Taxation by C.A. Ramnath, Auditor, Coimbatore
17.08.2016: Ethics and Life Skills by Dr. Lina Mary Rose, Principal, B.Ed., College, Dr. SNSRCAS, Coimbatore
12.08.2016: Social Responsibility by Dr.G.Gnanasekaran, MBA Director, Dr. SNSRCAS, Coimbatore
19.07.2016: Professional Ethics by Mr. Maheswaran Rajagopal, Vice-President, Finance and Information, KGISL Group of Companies
27.02.2016: Corporate Accounting and International Economy by Mr.S.Karthikeyan, Head, CA Academy
31.12.2015: Professional Career by Mr.A.R.Rama Subramania Raja, Vice-Chairman in Corporate Secretaryship
10.08.2015: Emerging Business & Awareness Of Accounting Standards & Corporate Laws by Mr.L.SURYANARAYANAN, Head, Right Accountancy, Ksg, Complex, Sastri Road, Ram Nagar, Coimbatore.
09.07.2015: Building Motivation by Mr.C.K.ARIVAZHAGAN, Consultant trainer , telecom sector and corporate trainer for HCL computer services, coimbatore
01.03.2019: National Level Seminar on "Budget 2019" by C.A. Anish, C.A. Harish Charted Accountant , Coimbatore, and Mr.Ravi CFO, Roots Industries.
26.09.2018: International Seminar on International Financial Reporting Standards by CA. H. Rajeev Ramanath, Charted Accountant Jayarajan & Associates, Palakkad, Ms. Kokila.U, Kalavagunta ACCA Finalist, United Kingdom. Mr.S.Ashwin Narayanan, Charted Accountant, Chennai.
26.02.2018 : Workshop on Share trading by Mr.S.Gowtham Raj, Partner Sharekhan Trading, Pondicherry
22,23.01.2018 and 29, 30.01.2018: Workshop on "Tally with GST" by Mr.CA.Jayakumar, Chartered Accountant, Coimbatore
06.10.2017: International Seminar on "Remonetisation after Demonetisation" by CA.Prabhu Kesavan, Chartered Accountant, Bangalore and Mr.Vibin Chandar Selvaraj, Head Training, AZURE IT Solutions, Ghana, West Africa
05.10.2017: One Day Seminar on "Goods and Services Tax" by Mr.CA.S.Chandrasekar B.Com. F.C.A. DISA (ICAI) and CA Vishal Jain A, Auditor, Coimbatore.
26.03.2017 to 04.04.2017: Hands-on practical Training by I-B.Com (PA) & II-B.Com (PA) students at BKS Textiles Ltd., (Palladum to Thirupur Road, Palladam), Annur Cotton Mills PooluvaPalayam Village, Annur and Sharadha Terry Products Ltd., BathrakaliammanKovil Road, Nellithurai, Mettupalayam.
23.03.2017: Inter Department Competitions, Competitions: Just a minute, Quiz, Entrepreneur and Product launch.
21.02.2017: Outbound Training by II-B.Com (PA) students at BRAINWAVE, Business Solutions, Training # Consulting# Events, Kotagiri.
08.02.2017: Intra Department Competitions,Competitions:Poster Designing, Finance Quiz and Essay Writing on Digital India.
06.02.2017: Workshop on topic "Online Share Trading" by the trainer of Annamalai Capital Services (P) Ltd, Coimbatore.
08.07.2016: Inauguration of "Commerce Association" – "COPRAC".
11.03.2016: One Day National Level management Meet byMr.M.Arjun, Managing Director, EUREKA Trading Pvt. Ltd., Coimbatore.
10.03.2016: One day national level conference "Recent Strategies of Online Business" by Mr.M.Gopalakrishnan, Associate Director, Administration Cognizant, Coimbatore.
07.03.2016: One Day Workshop on TALLY by Mr.K.BABU, MTurk Solutions, Proprietor, Thudialur.
29.07.2019: AwarenessProgramme on Save Tiger on WORLD TIGERS DAY at District Forest Office.
01.02.2019: Plastic Awareness and Cleaning Process in Panimadai Village.
31.01.2019: School Linkage Programme in VijayaLakshmi Matric Hr Sec School.
25.01.2018: Creation of Parkat Thudiyalurat Railway Station.
12.10.2017 : Dengue Awareness Programme at Marudhur.
31.03.2017: Awareness Programme on Swine Flu at Sathy Road, Coimbatore &Velankuruchi Road, Coimbatore.
10.09.2016: Anemia and Food Management at Arokya Foundation, Viswanathapuram, Coimbatore.
25.09.2015: Taught MS Word and MS Power point at Sri VarahiManthralayam Trust, Periyanaickenpalayam, Coimbatore.
15.03.2017: Blood Donation by Students at ESI Hospital, Coimbatore.
29.12.2016: Blood Donation by Students at Blood Bank, Sundarapuram– Coimbatore.
26.08.2016: Blood Donation by Students IMA Masonic Rotary Midtowm, Mahaveers Blood Bank, Coimbatore.
R.NitheshBalaji(19BCP0020)of BCOM PA (2019-2022) have won 10th place in Interstate Yoga Competition 2019.
K.Bathri Narayanan (17BCP0005)of BCOM PA (2017-2020) have won Best Speaker on Union Budget Debate.
10.08.2018: Ms.Indumathi.S of III.B.COM PA A and Mr.Vinothkumar.V of III.B.COM PA A have won Best Paper Award and Best Questioner Award in Nehru Institute of Technology.
Mr.P.Rahul Pandian student of Final Year B.Com PA had won 3 Gold medals in 25th Tamilnadu State Roller Skating Championship – 2015 at Chennai, 37th Rank in World Roller Skating conducted by FIRS World Roller Speed Skating Championship – 2016 at China, First Prize in Road – III, Elimination, Rink – IV in 24th Coimbatore District Roller Skating Championship – 2017 at Coimbatore, Second Prize in Rink – IV and Third Prize in Road – III in 27th Tamilnadu State Roller Skating Championship – 2017 at Coimbatore.
Mr.Albin Antony student of Final Year B.Com PA had Passed Chartered Accountant (CA) – Common Proficiency Test in December 2015, also he Passed CA – Integrated Professional Competence Course Group – I in November 2016, also he passed CA - Integrated Professional Competence Course Group – II in May 2017.
OUTSTANDING STUDENTS OF THE DEPARTMENT
B.Com (PA)
| S.No | BATCH | NAME OF THE STUDENT |
| --- | --- | --- |
| 1 | 2014 - 2017 | NAGALAKSHMI.S |
| 2 | 2015 - 2018 | MEENA.S |
| 3 | 2016 - 2019 | LATEIA.C |