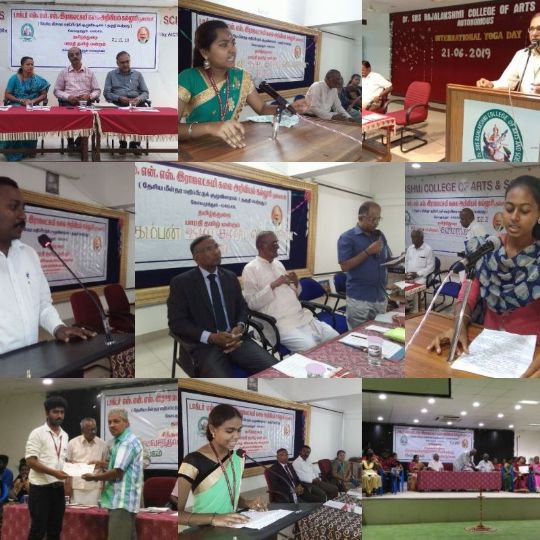 DEPARTMENT OF

 tamil

The department of Tamil was established in the year 1999. Department offers Tamil to all the UG Courses as Part I, M.Phil/Ph.D from the year 2011.




OBJECTIVE 
To increase the pass percentage to 100 in each semester 
To improve the staff education qualification & to encourage research publication.

FACILITIES
DEPARTMENT INFRASTRUCTURE
The Department has well furnished Staff room with Laptop, Desktop, Intercom 
The Department has well equipped computer with Internet Facility 

Department Library with 191 books and 2 journals

supporting pm initiatives mapped with aicte

highlights
Department activities
15.03.2019: Sindhanai mandram - enipadigal idhazh veliyeedu - Dr.T.Vishwanadhan, Asst.Prof & Head of Department, SNR College of Arts & Science, Coimbatore.
21.12.2018: Kambanvizha suzhalum solarangam, Dr.S.Murugesan, Joint Secretary, Kamban Kazagam.Coimbatore.
27.12.2017: Kambanvizha suzhalum solarangam, Mr.N.Nanjudan, Secretary, Kamban Kazagam, Coimbatore.
09.08.2017: Sindhanai mandram & kovai vasandha vaasal kavimandram – kaviyarangam, Dr.Paramasivam, Sri Siva Hospital, Coimbatore.
03.02.2017: Sindhanai mandram padaipilakiya payilarangam, Enipadigal idhal veliyeedu, Mr.S.Venugobal, Writer,Sim University, Singapore.
10.01.2017: Kambanvizha suzhalum solarangam, Mr.N.Nanjudan, Secretary, Kamban Kazagam.
04.01.2017: Bharathi tamizhmandram-Tamizh ilakiyanngalil Thannambikkai, Mr.Sudalai mani MA, M.Phil, Asst.Prof. Sree Saraswathi Thiyagaraja Arts Science College, Pollachi.
27.12.2017: Kamban villa - Sulalum soloragum by Thiru Nanjunduan
09.08.2017: Kaviyarangam in kovai vasantha vassal by Vergalin dharisanam
03.02.2017: Padaipilakiya payilarangam (pudhu kavithai sirugathai , Enipadigal,edhal veliyeedu)
10.01.2017: Kamban vila – sulalum solaragam by Mr. S.Mruali
04.01.2017: Tamil Elakiyangalil Thannabikkai by Mr .P.Sudalai mani
06.02.2016: Padaipilakiya payilarangam (Pudhu kavithai sirugathai , Enipadigal,edhal veliyeedu)
08.01.2016: Valava? vala vaaaa by Dr. .N.Shankaraman
19.10.2015: Kamban villa sulalum soloragum
18.09.2015: Kaviyarangam in kovai vasantha vassal by Dr . R . Sugumar
27.01.2015: Thirunangaigal oru vilipunarvu by Paster .Esther Bharathi (Thirunangay)
07.01.2015: Pattimandram on Thirupadangal ilaiya samuthayathai Panpaduthugiradhu
26.12.2014: Kamban celebration by Sulalum sollanragam
11.12.2014: Bharathi birthday celebration by Prof .V.M.Umapathy
17.02.2014: Tamil inba Tamil by Dr.R. Viswanathan
24.9.2013: Valkai sugamay by Dr. M.subarathinam.
11.9.2013: Kamban Villa by Sulalum sollaragum
KALAI ILLAKAIYA POTIGAL NADATHUTHAL
MANAVARIN THANITHIRANAI OOKUVITHAL
KALAI NIGALCHIGALUKU OOKAMALITHAL - NAM KALURIYILUM PIRA KALURIKLILUM