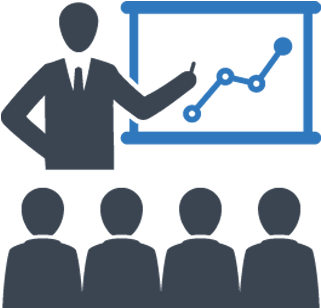 DEPARTMENT OF

 business administration (UG)

The Department of Business Management became functional from the year 1999 and the Department of Business Management with computer applications was introduced in the year 2002. It is also a three year duration program which is affiliated to Bharathiar University. Department was started with the motive "To be a supreme center for academic excellence and to ensure better quality education to its prospective learners" The programme aim at enabling the students to gain subject knowledge, generate their own knowledge and the emphasis is especially to convert their actual knowledge into productive action. At present the department comprises of 10 staff members among which 08 are female members and 02 male members,all are well qualified and approved by Bharathiar University as per norms. At present the department has got about 245 learners. The department has got all necessary facilities to satisfy its member's requirements.

OBJECTIVE 

To ensure Good Academic results by providing top most pass percentage. 
To develop Individual personality by organizing various Personality developmental programmes. 
Motivating students and staff members to present papers and publish articles. 
To make the students to update their knowledge base to suit the current requirements by organizing various state and national level symposium.
Under Graduate Programme
BBA
3 Years Course
Course Description
BBA is an undergraduate Business Management Course. The full form of BBA is "Bachelor of Business Administration." BBA Course is designed to provide a basic understanding of management education and to train the students in communication skills effectively.
Under Graduate Programme
BBA (CA)
3 Years Course
Course Description
The program offers courses which are a blend of management, commerce and computer applications. This course aims at inculcating essential skills as demanded by the global software industry through interactive learning process.
FACILITIES
DEPARTMENT INFRASTRUCTURE
The Department consists of smart classrooms with all modern accessories including ICT techniques such as the use of OHP'S and LCDS, also in house library which has more than one hundred books, leading journals and dailies to help students to keep update with latest business trends. 
The department has got separate lab facility with 60 systems. 

supporting pm initiatives mapped with aicte

highlights
Department activities
28.08.2017: E-Intelligence ,Photoshop by R.Tamilselvan Technical Consultant Mazenet Solution,Coimbatore
22.02.2017: Impact Of Cashless India by K.Rakshna priya, II BBA, Aishwarya K.Garg III BBA, M.Priyanka III BBA CA-B
21.02.2017: Orientation program for TNPSC Exams by Dr.S.Bharathi Prakash, Asst.Professor, PSG College of Arts & Science, Coimbatore
31.01.2017: Demonetization & Banking Secor in India by Var.K.V.Sivamani, Branch Asst Manager, Axis Bank, Sathyamangalam Branch Sathyamangalam
18.10.2016: Global Economy by Dr.P.Mohanamani, Assistant Professor, KCT Business School, Coimbatore
26.02.2016: Careers in Logistics and Shipping Capt.S.Baskaran, Director Indian Institute of Logistics, 309, Rajkamal Towers, Avinashi Road, Peelamedu, Coimbatore
10.02.2016: Entrepreneurship and Project development by Dr.K.Gunasundari, Associate Professor, Department of management Studies,Karpagam University, Coimbatore
04.02.2016: Advertising Media And Event Management by Mr.Yuvaraj, Sales Consultant, SASI Advertising and Mr.Nagarajan Consultant Sasi Advertising Group, Coimbatore
15.10.2015: Tips for TCS interview by Mr. S. Logeswaran, Insurance Officer, Tata Consultancy Servive, Egmore , Chennai
07.07.2015: Career Opportunities in Marine Logistics by Capt. S. Baskaran, Campus Manager, Good Ocean Maritime, Coimbatore
17.02.2015: Careers in Logistics and Shipping by Capt.V.J.Pushpakumar, Director, Indian Institute of Logistics, Chennai
31.12.2014: Chartered Wealth Manager by Sahana.R, Executive-Business Development, Career Path, Centre for Financial and Management Studies, Coimbatore
24.12.2014: FACING COMPETITIVE EXAM EFFECTIVELY by Dr.Ramaswamy, Consultant, LEDAA, Coimbatore-02, V.Vivek Priyanka Balakrishnan Sindhula
30.07.2014: SEO and Online Marketing by Ms.Sapna Agarwal - Branch Head , Apex Institute Of Multimedia, Esso Bank, Peelamedu,Coimbatore and Mr.Madesh – Senior Faculty, Apex Institute Of Multimedia, Esso Bank, Peelamedu, Coimbatore - 04
18.02.2014: Session on Self Awareness and placement Readiness by Dr. Kirupa Priyadarsini
29.01.2014: KASH - Knowledge, Attitutde, Skill & Habit by Mr. K.S. Maruthasalam, Senior Consultant, Zen people Craft I(P) Ltd, Coimbatore
03.01.2014: Job Prospectus in banking and Financial Sectors by Mr.K..Chandra Mouleeswaran, Managing Director, KGES Ltd, Coimbatore
05.09.2013: Marketing Paradigms for Emerging Economies by Mr.Kandasamy , President, CODISSIA, Coimbatore
05.08.2013: Organisational Excellence through Leadership by Dr.Parthiban , Associate Professor, Dept of Business Management, Gobi Arts and Science College, Gobichettipalayam
20.02.2013: Global Trends in Trade and Investment by Dr.S.Franklin John, Principal, Nehru College of Management , Coimbatore
30.01.2013: Ethics in Marketing by Dr.G.Alex Rajesh, Professor in Business Administrstion, Nehru College of Management, Coimbatore
13.09.2012: Creating Customer Oriented Organisation by Dr.R.Tamilmaran, Director, Sengunthur B School for Women,Thiruchengode
22.08.2012: Strategic roles of HR by Dr.M.Prakash, HOD, Department Of Commerce (CA), Kongu Nadu Arts and Science College , Coiumbatore
14.02.2012: Leadership for New Millennium by Mr.P.Rajendran, Assistant Professor, Department of Business Administration, SNS College of Engineering, Coimbatore
09.01.2012: Overview of Global Economy by Mr.P.SenthilKumar, Assistant Professor, Department of Business Administration, SNS College of Technology, Coimbatore
23.08.2011: Building Employability by S.Suresh MBA., Area Sales Manager, Organic India, Coimbatore
25.07.2011: Expectation of Corporate From the Students by E.SenthilRaja MBA., Export Manager, Aboorvaa IMPEX , Karur
19.02.2018: National Level Seminar Zenith'18 on "Startup and Entrepreneurship"
19.09.2017: State level Seminar on Retail Business & CEO Conclave by J.Kavitha, MBA., Store Head, Spar Hyper Market Pvt India Ltd, Coimbatore on Topic:Future Opportunities in Retail Business, Technical Session: I Vibinchandar Selvaraj, Head Training, Azure IT Solutions, Ghana, West Africa on Topic : Business and IT Sector, Technical Session: II, Mr.Ramesh Babu., MBA, Store Manager, Westwide, Coimbatore on Topic : Technologies that are redefining Customer Experience, Technical Session: II Mr.Ashok Kumar, MD - Suba Plastics, Coimbatore on Topic: Business opportunities, Technical Session: III Mr.S.S.Shanmugam, MD - Kasthuri Packagings, Coimbatore on Topic: Resources for Entrepreneurial Initiatives
02.03.2017: National Conference on Innovative Approaches to Business Excellence by Dr.P.ALAGESAN, Senior Scientist & Head / Programme Officer ICAR KrishiVigyan Kendra, Myrada, Gobichettipalayam
07.01.2017: Outbound Training on "Experiential Learning" in BRAINWAVE, Kotagiri
01.10.2016: Outbound Training on "Experiential Learning" in BRAINWAVE, Kotagiri
04.02.2016: Workshop on "Adveritising Media and Event Management"
05.03.2016: State level seminar on HR CONCLAVE' -A Tectonic Shift for Human Resources, Technical Session: I Mr. D.John Franklin, CEO & Director, DEFrank Group, Coimbatore on Topic : HR Challenges in VUCA World, Technical Session: II Mr.Pon Annadurai, Senior Manager-HR, Lakhsmi Machine Works (LMW),Coimbatore on Topic: HR Analytics Technical Session:III Mr. Santhosh Kumar, HR Manager DUTCH Plantin Coir India Pvt Ltd, Coimbatore on Topic : Gap Analysis–Vision Vs Reality–HR, Technical Session: IV Mr.Sourrendere Manoharan, HR Analyst-Campus Hiring & Employer Branding, MPHASIS Limited,an HP Company, Bagmane world Tech Centre, Bangalore on Topic: HR a closer look : From a student perspective by Mr. A. Rex Mohan Kumar, Hr Director Sword Global(India)Pvt. Ltd, Chennai, Technical Session: V Ms.Samaya, Joint Secretary HRFI, Coimbatore on Topic : Innovative as Culture
25.02.2015: State Level Seminar on Challenges and Opportunities in FDI- an Intra -Collegiate Management Meet, Technical Session: I Mr.D.David winster praveenraj, Management consultant, Coimbatore on Topic : Challenges in FDI, Technical Session: II Dr.A.Jayaseelan, Associate Professor, Sri Ganesh School of Business Management, Salem on Topic : FDI in Retail Sector, Technical Session: III Dr.G.Ravindran, Professor, Post Graduate and Research, Dept.of Commerce, Chikkanna Govt Arts College, Tirupur on Topic : Opportunities in FDI
28.08.2014: One day workshop MARCATUS 2014 by Dr.S.N.Subramanian, Chairman, Sri SNS Charitable Trust
18.02.2014: State Level & Intra Departmental Level Management Meet "Work It Out" (Preparing job seekers for workplace success) by Technical Session: I Dr.A.V.Vimala, Assistant Professor, Career Guidance & Placement Cell, Bharathiar University, Coimbatore on Topic: Campus to Corporate, Technical Session: II Dr.Kirupa Priyadarshini, KCT Business School, Coimbatore on Topic: Career Guidance & Self Awareness
30.01.2014: Out Bound Training by PACE ( Pricol Academy of Excellence) 965, Avinashi Road, CBE-641037
04.09.2013: One day workshop MARCATUS 2013 - "Experiential Learning" by Dr.S.N.Subramanian, Chairman, Sri SNS Charitable Trust
15.02.2013: State Level Seminar on Strategic Decision Making in today's business & out bound training "career engineering by Technical Session: I Dr.V.K.Shunmuganaathan, (Principal,SNS College of Engineering,CBE), Technical Session: II Mr.D.Aravind (Asst.Manager-HR,KGISL,CBE), Technical Session: III Mr.Nithyananth Kalaiselvan, (HR Manager,VWR International,CBE)
24.08.2012: One day workshop MARCATUS 2012 by Dr.S.N.Subramanian, Chairman, Sri SNS Charitable Trust
27.02.2012: National Level Seminar on Management by Consciousness ZENITH 2012 by Technical Session: I Mr.P.ANNADURAI,Manager - HR,LMW Coimbatore, Technical Session: II Dr.G.V.SURESH, Director-HR, Sonic Wall Corporation, Bangalore, Technical Session: III Mr.SEETHARAMAN, Recruiter – HR, Net Zone Management, Private Ltd, Coimbatore.
19.08.2011: One day workshop MARCATUS 2011 by Dr.S.N.Subramanian, Chairman, Sri SNS Charitable Trust
04.02.2018: Eye Camp, Dr SNS Rajalakshmi College of Arts and Science, Coimbatore
23.03.2017: Prevention of Swine flu Mettupalayam, Sathyamangalam, Ganapathy, Ukkadam, Peelamedu
04.02.2017: Eye Camp ,Thalavadi
10.02.2016: Blood Donation, Punjai Puliampatti
09.08.2015: Tree Plantation,Mettupalayam Road
26.07.2015: Cattle Care Welfare Conference, Hindustan College of Arts and Science, Coimbatore
03.03.2015: Eradication of Child labour and Signature Campaign Against Child Labour, Kurumbapalayam, Coimbatore
01.03.2015: Awareness programme on Clean India Campaign, Gandhipuram, Coimbatore
28.01.2015: Provided Lunch at UNITED HOME FOR MENTALLY ILL, Kurumbapalayam, Coimbatore
24.01.2014: Distributed Baggage for Disposable of Non Degradable Waste,Kurumbapalayam, Coimbatore
01.13.2013: Celebrated diwali with Disabled children's in an Orphanage, Annaikatti Village
17,18.08.2013: Welfare schemes of State Government, Thollampalayam village
10.02.2013: Eye Camp in Sadhumagai, Nadupalayam, sathyamangalam
21.01.2012: Food and Snacks distributed to Duglas Memorial School, Coimbatore
13.06.2011: Food and Snacks distributed to "The United School for Mentally Retarded"
MANAGEMENT PROCESS
FINANCIAL ACCOUNTING
BUSINESS ETHICS
VISUAL BASIC
ENTREPRENEURSHIP AND PROJECT MANAGEMENT
OUTSTANDING STUDENTS OF THE DEPARTMENT
BBA
| S.No | BATCH | NAME OF THE STUDENT |
| --- | --- | --- |
| 1 | 2009 - 2012 | KALPANA.T |
| 2 | 2010 - 2013 | HEMALATHA.R |
| 3 | 2011- 2014 | DEVI LAVANYA.P |
| 4 | 2012- 2015 | KIRTHIPRIYA.V |
| 5 | 2015 - 2017 | AISHWARYA K GARG |
BBA(CA)
| S.No | BATCH | NAME OF THE STUDENT |
| --- | --- | --- |
| 1 | 2009 - 2012 | JASMINE.M |
| 2 | 2010 - 2013 | PREMKUMARI.R |
| 3 | 2011- 2014 | NANDHINI.R |
| 4 | 2012- 2015 | SHIJO JOSEPH.J |
| 5 | 2015 - 2017 | PRIYANKA.M |