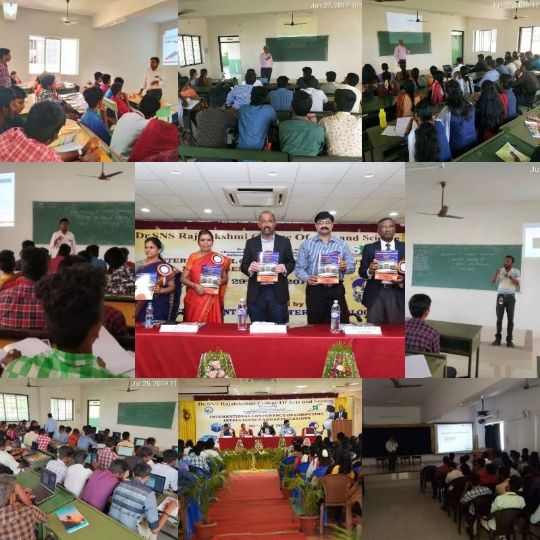 DEPARTMENT OF

COMPUTER technology

The department of computer technology was started in the year 2007. The department is equipped with fully qualified and experienced faculty members. It has the state-of-the-art laboratories, internet and other required modern facilities.




OBJECTIVE 
Improving software hardware skills of the students by conducting/encouraging that to attend software oriented competitions like debugging, web designing and attending hardware workshop. 
Enriching their internal skills by conducting inter departmental competition, departmental seminar and permit them to participate in the inter college meet/seminar /symposium.

Under Graduate Programme
B.Sc. Computer Technology
3 Years Course
Course Description
B.Sc. in Computer Technology is a 3 year full-time undergraduate program in the field of computer study. The students are taught extensively regarding the hardware and software skills of computer technology.
FACILITIES
DEPARTMENT INFRASTRUCTURE
The Department has well furnished Staff room with Desktop, Laptop and LCD. 
Department Library has 56 Books and 11 E-Books. 
Well equipped modernized Computer laboratory with Internet facility. 
3 Classrooms and one with ICT facilities. 
The Entire Campus with Wi-Fi Facility for the Student and Faculty Members

supporting pm initiatives mapped with aicte

highlights
Department activities
13.07.2018: "Relational Database Management System " by Dr.S.Karunakaran, Associate Professor (SRG) Department of Computer Technology, Kongu Engineering College, Perundurai
11.12.2017: "Network Security" by Mr.K.Mageshwaran,Senior Technical Trainer,MAzenet Solutions PVT LTD,Coimbatore
07.07.2017: "Awareness on Goods and Services Tax" by Dr.G.Gnanasekaran, Director, MBA Programme, Dr.SNS RCAS
28.12.2016: "Multimedia And Its Applications" by Dr.F.Paulin, Assistant Professor, Department of Information Technology, Avinashilingam Deemed University, Coimbatore
31.12.2015: "Security Issues in Computer Networks" by Dr.N.Muthumani, Associate Professor , Department of Computer Application ,SNR SONS College, Coimbatore
04.02.2015: "Career Opportunities in Logistics & shipping" by Capt.S.Baskaran B.E,Good Ocean Maritime,Indian Institute of Logistics,Coimbatore
07.01.2015: "Web Designing" by Madhan Kumar.R, Web Designer, SmartExpost Technologies,Coimbatore
26.08.2014: "Android in Action" by V.Vijayalakshmi, faculty in Indra Institute of Education, Coimbatore
11.08.2014: "Health Informatics" byMr.B.Narasimhan, Assistant Professor Department of Computer Technology, Dr.NGP Arts and Science College, Coimbatore
26.09.2013: "C Programming" by Ms.C.Yuvarani,Technical Trainer,Karpagam Technical Academy,Coimbatore
15.02.2013: "Software Testing" by Prof.P.Manimozhi,Professor in Computer Science ,PSG College of Arts & Science, Coimbatore
02.03.2012: "Animation Technology" by Mr.S.Karthick,CEO,MIA Animation Studio
20.06.2019: "PHP & MYSQL" by Sabarinathan Muthu, Executive Manager, Gateway Software Solutions, Coimbatore
27.06.2019: "INTERNET OF THINGS" by S.Padmanabhan, CEO, TACT Technologies, Coimbatore.
3.7.2019: "Oracle and MYSQL" by Mylsamy Rangasamy, Center Head, Sri Krishna ITech, Coimbatore.
10.07.2019: "Cryptography & Network Security" by Mr. Shanmugamvengidusamy, Technical Head CMS ICLASS
12.10.2018: "Animation and Visual Effects" by Mr.Aravindan, Cluster Institute of Media and Technology, Coimbatore
04.07.2018: HANDS-ON TRAINING on "DOT NET FRAMEWORK" by Mr.S.Shanmugasundaram and C.Vignesh Manikandan from Vee Xplore Solutions, Coimbatore
29.7.2017: International Conference International Conference on "Computing Intelligence & its Applications" (ICCIA2K17) by Prof.V.B.Kirubanand, Associate Professor, Christ College of Engineering, Bengaluru, Prof.Jothish Chempath, Associate Professor, Muscat Higher College of Engineering, Sultanate of Oman
23.03.2017: Seminar on "Emerging Technologies & Digital Marketing" by Mr.Santhosh Kumar ,UdhayaKumar Accent Techno Soft,Coimbatore
22.09.2014: Seminar on "PHP" by S.Sakthi Saranya, Web Developer, Accent TechnoSoft,Coimbatore
22.09.2014: Seminar on "Competence -- Cultivate & Cherish!" by Dr.T.Amudha, Assistant Professor Department of Computer Science, Bharathiar University,Coimbatore
04.10.2013: State Level Seminar on "Recent Trends in Computing" by Dr.D.Suganyadevi, Director,Computer Sciences,Sree Sarasvathi Thiyagaraja College, pollachi-07, Dr. M.Nagarajan, Asst. Professor, School of Computer Science, CMS college of science and commerce, Coimbatore
27.08.2013: Seminar on "Open Source Technology (PHP)"
24.08.2013: Seminar on "Graphics & Multimedia" by Mr. S.Sukumar,Head, Mr.Manikandan, Multimedia Coordinator,CSC,Coimbatore.
20.02.2013: Seminar on "PHYTHON" by Mr. K. Sabarinathan,4S Software solution India pvt Ltd
09.01.2013: Seminar on ".NET Framework & Communication Skill Development program" by Mr.S.Kousikan, SRM Infotech Pvt Ltd,Coimbatore
04.10.2012: State level seminar on "Recent Trends in Computer Science and Technology" by Mr.U.M.Ravichandran, Associate Professor,Department of Computer Science, Kongunadu Arts and Science college,Coimbatore, Dr. R.Ganesan, Associate Professor, School of computing science and Engineering,VIT University, Chennai, Mr. S.Gopinath, COB-Tech Lead, IBM, Bangalore- 42
20.09.2012: Seminar on "Career Guidance and Personality Development" by Mr.N.V.Balaji,Lead,Training & Placement.Karpagam Institution,Coimbatore, Mr.Nizar Anwar,HRA(Executive),Cegonsoft Pvt.Ltd.,Coimbatore
07.09.2012: Seminar on "Hardware & Networking" by Mr.M.Karthick,Technical Head,ACCEL IT Academy, Coimbatore
16,17.8.2012: Workshop on "Web Development and Online Job Service & affiliate Marketing" by Mr. B.Sripathi and Mr.R.Sundarraj, S2I, Coimbatore
19.07.2012: Seminar on "droid IOS" by Mr.K.M.Sivakumar,Cyprus Infotech,Coimbatore
18.02.2012: Seminar on "Open Source Technology(PHP)" by Mr.K.R.S Kumar,Technical Head,ATS (p)Ltd
20.01.2012: Seminar on "Project Management" by Mr.B.Gunalan,HOD,Dept of CS, CMS College, Coimbatore
22.08.2019: "Technical competitions" to Sri Sowdeeswari Vidyalaya Matric. Hr. Sec. School, Selvapuram, Coimbatore
07.08.2019: "Outbound Training-Biodiversity conservation" to Ko-Desam, Setthumadai
28.01.2014: Computer Awareness Programme on Information Security to Govt. Hr. Sec. School, Vellingadu
24.01.2013: Provided the Stationery Items and Food to Neyam Special School & Home For the Mentally Challenged, Coimbatore.
27.01.2012: Provided Food, Used Clothes to Sree Anbalayam Charitable Trust, Coimbatore.
31.01.2011: Conducted Computer Awareness Programme to Govt. Hr. Sec. School, Vellingadu
Problem Solving Using C and C++
OUTSTANDING STUDENTS OF THE DEPARTMENT
B.Sc (Computer Technology)
| S.No th> | BATCH | NAME OF THE STUDENT |
| --- | --- | --- |
| 1 | 2009 - 2012 | Bikash Dahal |
| 2 | 2010 - 2013 | Sangeetha.V |
| 3 | 2011 - 2014 | Shiva Ranjani.G.R |