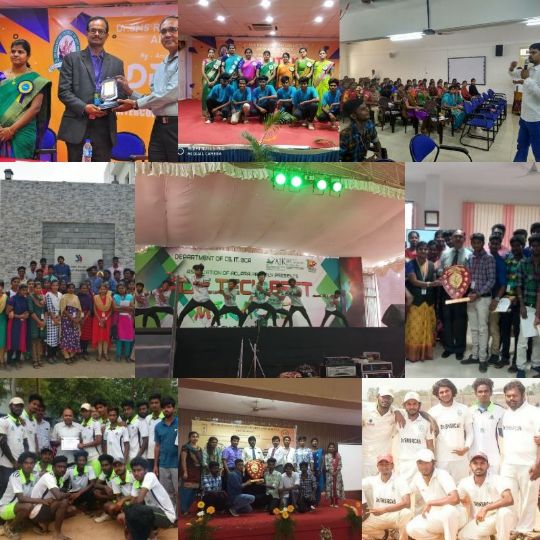 DEPARTMENT OF

 information technology

The department of Information Technology was started with Bachelor degree in Information Technology in 2007 the additional section of B.Sc. Information Technology was started in 2008.




OBJECTIVE 
To develop Intellectual excellence and creativity. 
To provide adequate facilities for study. 
To improve utilization of available resources. 
To provide necessary strength to enable the students to join IT professionals.

Under Graduate Programme
B.Sc(IT)
3 Years Course
Course Description
BSc in IT is basically about storing, processing, securing, and managing information. This degree is primarily focused on subjects such as software, databases, and networking.
FACILITIES
DEPARTMENT INFRASTRUCTURE
The Department has well furnished Staff room with Individual Cabin, Laptop, Desktop, Intercom Department Library with 105 Books and 154 E-Books 
Spacious ventilated 6 Class rooms 
Class rooms with ICT Facility : 01 
Fully equipped Laboratory with Internet facilities 
1 Printer , 1 LCD 
Wi-Fi Facility on the Entire Campus for the student and faculty members

supporting pm initiatives mapped with aicte

highlights
Department activities
09.09.2019: "Special Lecture on System Hacking and CSCU Certification" by Mr.Gopinath Arumugam, Technical Head, Xplore IT Corp., Coimbatore
06.09.2019: "Guest Lecture on Oracle" by Mr.N.Krishnamoorthy,Business Manager (South), Microsoft Oracle
11.08.2017: "Applications of Oracle" by Mr. R.Mylsamy & Mr.K.Pradeep Kumar, Sri Krishna i-Tech , Coimbatore
20.07.2017: "Employability in IT" by Mr.V.G.Jagadish, Social Activist and a Positive Thinker, Coimbatore.
11-07-2016: "Recent Trends in IT" by Mr.B.Jothhiprasad, Senior Test Engineer, ABCO Advisory Service,Chennai
22-08-2015: "Recent Trends in IT" by Mr.B.Jothhiprasad, Senior Test Engineer, ABCO Advisory Service,Chennai
03-07-2015: "Industrial Exposure Training In Projects" by Mr.K.Periyasamy,Software Trainer, CSC Computer Education, Coimbatore
30-06-2015: "Real Time Internship" by Mr.D.Gokula Krishnan, Web Developer, Accent Techno Soft, Coimbatore
04-02-2015: "Features & Employment opportunities in IIC" by Mr.Baskaran, Campus Manager Indian Institute of Logistics ,Coimbatore
08-01-2015: "Net Awareness" by Mr.Vignesh, Asst.Professor, Adithya Engineering College,Coimbatore
09-12-2014: "Awareness of CCNA" by Mr.Sakthivel, CLDC, Gandhipuram,Coimbatore-641012
17-10-2014: "ASP.NET" by Mr.Laxmanan Shriram & Mrs.V.Brindha Devi,HCL Learning Ltd,Coimbatore-12
05-08-2014: "Animation Trends" by Mr.Rajendran Krishnaswamy,Director,Arena Animation,Coimbatore
05-03-2013: "Animation" by Ms.Sangita Boopathy, NIIT Coimbatore
08-02-2013: "Project Management" by Mr.B.Gunalan, HOD-CS, CMS College Coimbatore
11-01-2013: "Career Options" by Mr.Dass Narayananan, CEO, Icon For Training & Career
21-12-2012: "Hacking" by Mr.M.Karthik Accel IT Academy
23-02-2012: "Photoshop" by Mr.Arun, Chief Executive, Blue Chip Technologies
10-01-2012: "Open Source Technologies" by Mr.K.R.S.Kumar Ascent Techno Soft
12-08-2011: "Career Opportunity" by Mr.Das Narayanan Chief Executive Officer Icon For Training & career.
08-07-2011: "Current Technology" by Mr.N.Karthikeyan, SNS College of Technology
07-02-2011: "Android" by Mr. K.M.Sivakumar Cyprus InfoTech Coimbatore
04.03.2019: "Intercollegiate Technical Symposium" by Mr.Vadivelu Thangamuthu, Director, Sierra ODC Pvt., Ltd., Coimbatore
03.09.2018: Seminar on "Employability Skills" by Dr.Samuel Churchill, Founder and Managing Director, GET SET GO Solutions, Coimbatore
13.07.2018, "Workshop On Php Connectivity In My Sql In Industrial Sector" By Mr.Balamurugan, Senior Programmer, Ariztid Technologies, Coimbatore
20.01.2018: "IT Conclave" by Mr. Gopinath, Architect, Web Development, IBM, Bangalore, Mr.Arun Prabhu, Developer, Intel corporation, Bangalore, Mr. Jothiprasad, Senior Software Engineer, App ViewX, Coimbatore, Ms.Pauline Christiana ,Marketing Automation Specialist, Verticurl Marketting Pvt.Ltd, Tidel Park,Coimbatore, Mr.J. Anish, CEO, AJ Developers Hub, Coimbatore
27.09.2017: Workshop on "Career Planning & Motivation" by Dr. Samuel Churchill MBA., PHD (Hons) , Founder, Director –GetSetGo, Coimbatore
13.09.2017: Seminar on ".NET Technologies" by Mr.J.Senthil M.Sc (IT),Certified Java & .Net Trainer, Sri Krishna ITech Software Training Division, Authorized Training Partner of ORACLE, Coimbatore – 42.
15.07.2015: Seminar on "MS Project-2010" by Ms.Kartthika,Mr.SenthilVel, Mr.Vignesh Prabhu, CAD Center,Coimbatore
07.02.2015: Workshop on "PC Hardware" by Mr.Karupusamy, System Analyst, Dr.SNSRCAS
24.07.2014: Workshop on "Project Development in Recent technology" by Mr.G.Vimal & Mr.P.Veeramani,Netwin technology, Coimbatore
15-02-2013: Workshop On "Hardware and PC Software Installation" by Mr.P.Karupusamy, System Analyst, Dr.SNSRCAS, Coimbatore
23-01-2013: Seminar On "PHP & MYSQL" by Mr.A.R.Vignesh 4S Software Solutions, Coimbatore
07-09-2012: Seminar On "Hardware and Networking" by Mr.M.Karthik Accel IT Academy
06-07-2012: Seminar On "Cloud Computing" by Mr.M.Udaya Kumar, Universal IT Academy, Coimbatore
29-07-2011: Conference on 'Communicaton and Signal Processing" NCCSP-2011 by Dr.M.Karthikeyan TCE, Coimbatore
Content and Methods of Teaching Computer Science
After Graduation
Recent Trends in Enterprise Information Technology
Environmental Studies
Value Education: Human Rights
27.12.2018: Digitalization & E-Services for women , Saravanampatti
18.07.2018: Usage of Android mobiles and Mobile apps for Senior Citizens, Periyanaickenpalayam
22.01.2018: Cleaning the Park at Thudiyalur Railway Station, Coimbatore.
08.09.2017: Computer Training program for +2 Students.
04.04.2017: Rally on "Road Safety and Traffic Rues Awareness".
25.03.2017: Friends of Police Training Camp.
05.01.2017: Computer Training for School Students
23.07.2015: Computer Training for Students of Government Higher Secondary School, Ganapathy.
08.01.2015: Computer Training for Self Help Group Women.
30.12.2014: Social Service and Awareness Program for Douglas Memorial Children's Home.
13.08.2014: Computer Training for School Students
16.03.2014: Computer Training for School Students
Provided Lunch for Jeeva Jothi Arakattalai.
Q-Book in Computer Science for prepared & Distributed for HSC Students.
07.08.2012: QUIZ Competition conducted for School Students.
05.08.2013: Donated Blood for Lions Club of Erode Charitable Trust.
07.01.2011: Tree Plantation is done by our Students
12.03.2010: Provided Lunch & Provisions for Neyam Special School & Home for Mentally Challenged
10.12.2010: AIDS Awareness Program
OUTSTANDING STUDENTS OF THE DEPARTMENT
B.Sc Information Technology
| S.No | BATCH | NAME OF THE STUDENT |
| --- | --- | --- |
| 1 | 2010 - 2013 | Brindha.P |
| 2 | 2011 - 2014 | Gokilamani.R |
| 3 | 2012 - 2015 | Pavithra.S |
| 4 | 2014 - 2017 | Austinnova.J |
| 6 | 2016 - 2019 | Esther Sneha.S |